I haven't been here in a long time. It just occured to me that I haven't been on LJ. A lot of things have changed!
One of my goals that I listed was to Get an Internship! And I did... at Blaffer Gallery... the gallery that I have been working at for 2 1/2 years or maybe 3. Wait, I think it is 3. I am an External Affairs intern. Yay!
Also, I sold 5 trips with EF Collegebreak and got to go to Amsterdam for free! It was an amazing experience and one that I will never forget. My sights are set on going to Rome for Spring Break! I've got to sell 2 more trips to get that. My deadline is February 10th so that I can go from Rome to Athens! ahhhh.
So if anyone is ever interested in traveling the world, please do so with EF Collegebreak!
www.efcollegebreak.com!
Enter 'Hall7825' for $50 off! Let me know if you are interested! Remember, $150 down!
Whoa.
tinkerbelled
's entry about her Mango Gelato (p.S. Where did you get it from?), I have started a search for some gelato in Houston! I think I will go to:
Paciugo Gelato
5172 Buffalo Speedway
In the b-4-u-eat reviews, they said that the owner asked them to try BALSAMIC VINIGRETTE. I think I spelled that wrong... but just imagine that in a gelato! That's CRAZY talk. I hope they will let me go on a tasting spree when I go there because that would be awesome.
I want to travel again. I fell in love with Italy and France! I need to spend some more time in France, but I had such a great time in Italy. Ahh. The culture and the food... I want to try more places. The art was amazing. I don't think that I've posted pictures of my trip on my LJ. I'll probalby get around to it later. Next time I travel, I wm going to do some more resarch it's going to be crazy. Did you know that the bellini was created in Venice! (at Harry's Bar). I went to Venice and didn't go there to the bar and when I saw a special about Venice on the plane, I was like DANG... why didn't I go?!! I did ride a gondola... which was nice. It's sort of dirty and would have better if it was at night. It was sort of expensive though.. 20 EURO! I think our tour guide ripped us off a little bit, but that's another story.
I had to send off my laptop to Dell because the keyboard was insane. I bet it was food stuck in there. Ew. That would be so nasty, but I did eat around my laptop a lot. I bought the new Gym Class Heroe's cd yesterday instead of just streaming it off of that website. So good. Worth my 12.00 even though at the best buy website it said 9.99. I might have to get my 2 dollars or something back!
I think after reading
Current Mood:

awake
Current Mood:

cold

Current Music:

Gym Class Heroes - On My Own Time


I'm still a little nervous to see how this semester is going to play out, because I am going to be taking a lot of classes that pertain to my major. I am also PR Committee Chair for Blaffer Student Association (group formed to create awareness for Blaffer Gallery and its exhibits!) and that is proving TIME consuming. I wrote my first press release... and I was pretty proud of that, but I clearly have a LOT of work to do.

I'm going to be taking 17 hours, being an RA, working at Blaffer (only two days a week), and who knows what else. I am going to try and do intramural badminton (ahahaha!) and see how that works out. And then the PR stuff... plus trying to stay sane.

I'm off tomorrow and so glad that I don't have to go to work! Yay! I get to go pick up the new Gym Class Heroes' cd... As Cruel As Schoolchildren. I'm listening to it right now, and it is so good... although I don't really like the song that I am listening to right now (the first one out of 9 that I've already heard!) Everyone, go out and pick up their album. I promise you will not be disappointed.

I got free screening tickets to see Little Miss Sunshine, so instead of leaving at 6:30 like I did last time to see Monster House, we are leaving at 5:30!!

Monster House is sooo good. POTC 2 wasn't all that... and even though everyone says that Lady In The Water sucks, I am STILL going to see it! haha. Don't know when though.

I really love running... I wish I did it more often. I need new shoes because my running shoes are like 23740573 years old.

Big Brother was crazy tonight. GO MARCELLAS for shutting Jase down like that.
School is almost here. Gross. I try not to think about it, but I have to move in August 8th! RA training starts August 9th! It's so crazy to read my entries from when I first started being an RA because I was sooo extremely nervous, couldn't eat, and didn't know what to expect. Now, I'm a seasoned veteran of being an RA. Whoa, it just really boggles my mind. I was so nervous! It wasn't as bad as I thought it was going to be.
Current Location:

living room

Current Mood:

cheerful

Current Music:

Gym Class Heroes - As Cruel As Schoolchildren
http://www.slate.com/id/2139536/?nav=ais
READ THAT!!!
Or you can just read it here!
Lacrosse Players
The elitism of preppies, the boorishness of jocks.
By Dave Jamieson
Posted Friday, April 7, 2006, at 7:10 PM ET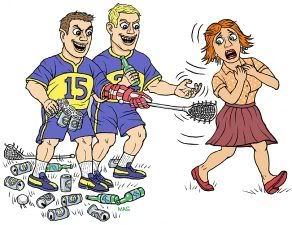 I was shocked when I heard about the alleged rape. But I can't say that I was surprised to hear that 15 of the 47 players on the Duke lacrosse roster have arrest records that are laced with alcohol-related crimes. (Disclosure: I was guilty of the same sort of alcohol-related crimes in college.) Five members of the team are alumni of the private Catholic high school I attended in North Jersey. One of them is Ryan McFadyen, the player who wrote an e-mail the night of the alleged assault detailing his fantasy to invite some more strippers over and then kill and skin them.
McFadyen may not have committed a crime, but he is guilty of a common lacrosse sin: puerile meatheadedness. According to court documents, a search of McFadyen's home turned up a poster that apparently pays homage to the crude sexual maneuver known as "the shocker." (For those of you unfamiliar with the nuances of the shocker, consult Wikipedia, or, better yet, your local lacrosse squad.)
Students, faculty, and Durham residents have carried out near-daily protests on Duke's campus. But if any of them are wondering how alcohol-fueled misogyny could fester at one of the nation's top schools, then they simply don't know lacrosse. A brief sociological account is in order. Lacrosse players hail from the privileged, largely white pockets of the Northeast and Mid-Atlantic. They unite and form tribes in Eastern prep schools, where they can be spotted driving SUVs with "LAX" stickers affixed to the rear windows. Many grow addicted to dipping Skoal and wearing soiled white caps with college logos on them. They gain entry into top colleges by virtue of their skills with the stick. They graduate, start careers in New York, marry trophy wives, and put lacrosse sticks in their kids' cribs.
More than any other sport, lacrosse represents the marriage of athletic aggression and upper-class entitlement. While a squash player might consider himself upper-crust, he can't prove his superiority by checking you onto your ass the way a lacrosse defenseman can. And while lacrosse may share with football a love for contact, it is far more socioeconomically insulated than the grid game (except in odd places like Maryland, where it's managed to cross class lines). Some aficionados take pride in the fact that their sport was invented by Native Americans, but I don't imagine many members of the Onondaga Nation end up playing lax at Colgate.
Still, how could college lacrosse players be any more misogynous than your typical football-team steakhead? Perhaps it's because, unlike their football brethren, an unusually large proportion of college lacrosse players spend their high school years in sheltered, all-boys academies before heading off to liberal co-ed colleges. Most guys from single-sex schools are able to adjust. Others join the lacrosse team. The worst of this lot become creatures that are, in the words of a friend of mine, "half William Kennedy Smith, half Lawrence Phillips." In the warm enclave of the locker room, safe from the budding feminists and comp-lit majors, their identity becomes more cemented. How else to explain the report in a Duke school paper that, roughly two weeks after the alleged rape, members of the team were spotted drinking in a Durham bar, chanting, "Duke lacrosse!"
Campus activists and intellectuals generally pay lacrosse players little mind, except when they're griping about how ghoulishly they behave in the cafeteria. In the eyes of their bookish classmates, lax guys occupy the far end of the dirt spectrum, even beyond hockey players. The lacrosse player's unparalleled reputation has spawned some wild rumors over the years. My favorite is the one I heard about how half a college team contracted herpes because they all made love to the same crack in their group-house couch. Urban legend? Sure. And yet, I've heard the tale many times, and it's always lacrosse-specific. That's no accident.
Consider the sport's lone pop-culture icon: Steve Stifler of American Pie. Stifler is the boneheaded lax star who speaks in the third person and beds girls by preying on their insecurities. Never let anyone tell you that Seann William Scott isn't a great actor. His brilliantly cartoonish portrayal is so spot-on that I'm convinced that he shadowed a half-dozen guys I know to prepare for the role. Anyone who knows lacrosse players knows a Stifler. Put him in a football uniform, and the character's magic is gone.
No charges have yet been filed against the Duke players. Who knows? Maybe they'll be exonerated, win next year's NCAA championship, collect their degrees, and go on to have successful careers in Eastern cities. That's the trajectory I've seen for most lacrosse players I've known, including those who remain good friends of mine today. Even if the Duke guys end up in court, I'm sure they won't disown the sport they love. I'll bet that 20 years from now, their sons will be playing lacrosse.
Dave Jamieson is a writer for the Washington City Paper.
Illustration by Mark Alan Stamaty.
Current Mood:

geeky

Current Music:

Loud AC


Oh, I saw a sneak preview of American Dreamz tonight... and PLEASE DON'T PAY TO SEE THIS MOVIE. It was funny at times, but if you do see it, see it for FREE. Dennis Quaid is still my husband though.
I am sorry you guys, but I am totally enjoying this weather. Its going to be 36 tonight! Whaaaaat! I remember telling someone that I wished that it was going to be in the 60s instead of the 80s, and I got my wish. YESH! Too bad (as with all things) it won't last too long. The 80 degree weather is set to come back Thursday! Nooooooooooooooooo! :/
Current Mood:

mellow

Predator
Con Air
and now Cold Mountain.
The Perfect Man
For all you Food Network TV watchers, am I the only one freaked out by Tyler Florence? He's always feeding people and hitting on the women that he works with! He's such a molestor!
Current Mood:

devious


How many total songs?
2207 songs

Sort by Song Title - first and last?
First: "#1" by Nelly
Last: "Zimzallabim" by Mos Def

Sort by Time - first and last?
First: "Should I Go?" by Brandy
Last: "Good Time" by Kyle Riabko

Sort by Album - first and last?
First: 'N Sync - 'N Sync
Last: Youurself or Someone like You - Matchbox 20

Sort by Artist - first and last?
First: 'Nsync
Last: Yvonne Elliman

Find "sex," how many songs show up?
18

Find "death," how many songs show up?
1

Find "love," how many songs show up?
161

Find "peace", how many songs show up?
2
Do this on iTunes. or Musicmatch. or whatever music program you have.
Current Mood:

cheerful

Current Music:

The Simpsons
journalismo
was wondering if I had a new post... so here it is Deanna!
I'm in the library with Deanna on a UH laptop and I have mosquito bites on my hands and they itch. For some reason, the word 'itch' looks like it should always have a B in front of it. This post is completely pointless, but